Where to Whelp & Whelping Boxes



From Nancy
Some people use the whelping boxes that have a lid and a run at one end where puppies can go when they are up on their pins. Useful as the bitch is in a quiet, darkish place with  privacy but easily checked on as the lid can be lifted for the occasional peek in. In the wild the bitch would find somewhere safe and private, digging holes under bushes etc.
OH has, over the years , made me various wooden whelping boxes. About 16 inches high and 24 inches square. He puts a lip round the inside about half way up and one of the sides screws off for when pups need to widen horizons. The lip is to stop pups getting squashed by unsuspecting mum against the side of the box. I put this in a large puppy pen which is usually in a bedroom (again quiet and no other dogs in the room) I put lots of newspaper in the box, plenty of time for proper bedding after all the pups have arrived. Also the bitch can spend ages ripping it to shreds when making her nest.
Having said all that quite often, if mum to be isnt settling in her whelping box she will come on to my knee or sofa or even bed. This is when lots of old sheets come in handy. I have lost count of the number of pups born on my knee but if thats where mum feels most comfortable and wants to be then thats where she is allowed.
I think the main things are peace and quiet, dim light and definitely no other dogs in the room.

Nancy

----------------------------------------------------------------

From Kathy

Our friend made a lovely whelping box for us in Melamine (wood which is covered so is water proof).

I think the bitch should have plenty room to move around and in the first 3 weeks, there is a small sliding shelf to the front of the box so she can jump out into the rest of the puppy pen (we bought a Crufts Puppy Pen from Croft a few years ago and I wish I had always had one - sturdy, looks good in the house and easily kept clean, with a door which you can open to let mum out, but has a little sliding shelf so all the pups do not run out when she comes out).

The box was custom made to fit into the pen exactly and is all slotted together, so that when not in use it can be taken down into small panel pieces and easily stored.

I line the bottom of the box with a few sheets of newspaper and then bedding on top and change the bedding and the paper a few times a day - vet bed is good and the wee does go through, but it is not actually dry, so lifting it up and looking at the paper tells you if anyone has does something so the whole thing needs changing.

The picture is of Dottie in her box with her puppies when they were newborns last January 2008.

As the Melamine wood is non-absorbent, it can easily be disinfected and rinsed, then dried before pups put back in.

PS - what would also work would be normal wood, so long as it was painted in gloss paint?

Warning - make sure paint is dry before putting puppies in!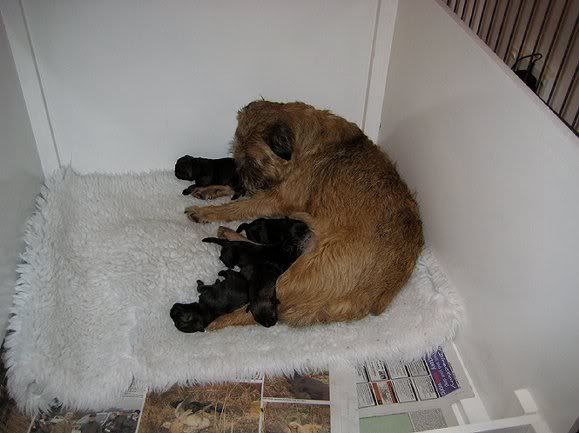 Kathy